Category:Gary Acord
From The Game-Maker Archive
Jump to navigation
Jump to search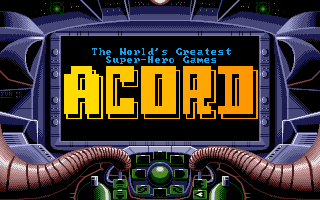 Designer of many Game-Maker games and Wolf3D hacks published under the Acord Games label. Huge comic book fan. Also fond of scantily clad ladies.
Most his games seem to use a common pool of resources, and several involve a Pac-Man tribute of some sort.
Acord's first Game-Maker game appears to have been Icemare, which is based heavily on Penguin Pete. After that come his core games -- the Zapman/Zapper series, Capn Zapn, Major Marvel, Jaxon Zoose, and Street Wolf. We can probably consider Dogs, The Head, and Spacecraft spin-offs of those games, that recycle recurring enemies or elements as protagonists. Then we have the Pac-Man clones, that seem to have spun off of The Fantastic Zapman. And finally we have the megamixes -- Anyworld, Superheroes, and Ultimare -- which fold all of the previous games together into a mush of a muchness. As it were.
If one is to make sense of the catalog, it's probably best to internalize those four categories of games -- superhero character pieces; spin-off and one-off games; Pac-Man clones; and crossovers -- then address the games chronologically (as patched together below).
More information pending.
Chronology
[
edit
]
This is a rough estimate, based on file dates, apparent proficiency, and the internal web of reference amongst games:
Registration information
[
edit
]
823 Salmon Drive
Dallas, TX 752O8
Social Media
[
edit
]
Interviews / Articles
[
edit
]
Misc. Links
[
edit
]
Subcategories
This category has the following 5 subcategories, out of 5 total.
Pages in category "Gary Acord"
The following 17 pages are in this category, out of 17 total.
Media in category "Gary Acord"
The following 173 files are in this category, out of 173 total.