Category:Sheldon Chase
From The Game-Maker Archive
Jump to navigation
Jump to search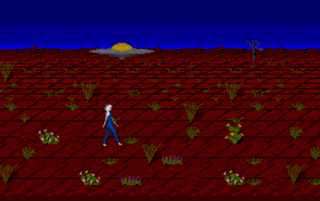 The owner of Rochester-based KD Software, Chase handled most of the business end of Game-Maker. His company took orders, and handled RSD's packaging.
Chase's own Game-Maker games tend to incorporate tributes to, or pastiches of, classic sci-fi movies and TV shows -- the work of Ray Harryhausen, Rod Serling, and so on.
Somewhere around 1995 or early '96, Chase hit on the notion of digitizing Eadweard Muybridge's early motion photography for use as character sprites. The result was a few drafts of a silvery, jittery nude model. After a bit of anti-aliasing and some animation tweaks, and finally some wardrobe assistance, he presented to RSD a stock female character for inclusion in future software updates.
Much as RSD's Sample hero formed the template for uncounted male protagonists, Chase's Muybridge lady became the starting place for legions of (occasionally lurid) sprite edits. If for that reason alone Chase's creative input would be notable. Yet his Woman Warrior games also exemplified several unusual and advanced techniques, as well as a curious borrowed aesthetic that sticks in the mind.
Also see: Recreational Software Designs
I did the business end of Game-Maker for Recreational Designs. I did some of the graphics and demo stuff.



The Stones contacted me as they had found I had a business office in Rochester NH selling computer hardware and software and was setup to handle the packaging of Game-Maker and to do all the order taking and processing.



I think it was at least a year before we got the first copies made and shipped. They were on 3.5" disks and I had to burn a secret registration code on each disk before they went out.



Eventually we went to CD's and with Win95 out we had to adjust to that as Game-Maker was really DOS only.



I don't have a web page for KD, I have not made it much of a priority, maybe someday.



I don't really remember awhile lot, as far as sales, it was a niche product, so there was never an expectation of huge sales. It was shipped all over as I did a fair amount of exporting of other items.



Our biggest marketing push was having a booth at the CES in Chicago in maybe 94 or 95? I remember we were next to "Thrustmaster" who made all kinda cool flight sim joysticks. I was into flight sims at that time too.



I actually enjoyed KNP and Games Factory a lot. [...] It was a nice community, something that never really developed around Game-Maker, as much as we tried talking it up, the timing was a little off.

— Sheldon Chase, Facebook conversation, December 2010
KD Software
KD Software
Great Falls Avenue
P.O. Box 448
Rochester, NH 03867
Links
Sites
Interviews / Articles
Misc. Links
Subcategories
This category has only the following subcategory.
Pages in category "Sheldon Chase"
The following 6 pages are in this category, out of 6 total.
Media in category "Sheldon Chase"
The following 27 files are in this category, out of 27 total.