Dexter the Alligator
From The Game-Maker Archive
Jump to navigation
Jump to search
Dexter the Alligator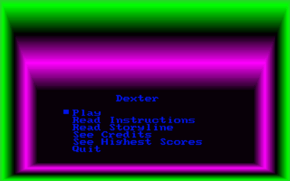 After Benny, Dexter is a solid sophomore effort from Matt Wears. Whereas Benny is a typical First Game-Maker Game, with all of the attendant oversights, assumptions, and novice clumsiness that practically make it a genre, Dexter builds on the strengths that show through Wears' earlier game, resulting in a still simple yet much more assured and involving effort.
Like Benny, Dexter consists of just a single map, assembled as an obstacle course for one of Wears' pre-existing characters. Also like Benny, the game is colorful and brimming with personality. Here, though, Wears makes much better use of the map space to construct something more like a deliberate play environment; the character moves more smoothly through the level and interacts with it much as the player would expect. The game world also is just a more interesting place to be. In place of the nondescript pink interior of Benny we get an almost Shinto-feeling rock-and-moss (possibly grass) landscape, laid against the kind of deep well of unsettling blackness that you rarely see outside of an early NES game. It's just a cool place to be, that you will want to explore.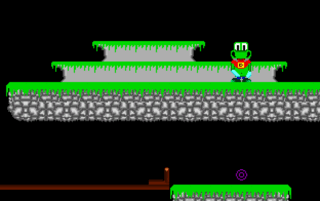 To that end, the game somewhat rewards exploration. There are several paths to take through the level, which lead to different kinds of terrain, different challenges, and sometimes the odd bonus item. You can get caught in a few traps, but overall there was a distinct effort here to make a fair, interesting place that exudes a sense of place.
It's easy to get caught up in rough comparisons, but to return to the Shinto thing, Dexter calls to mind the sort of 8-bit Japanese platformer that tended not to make it out of the country. Though it bears no real similarity, one may think of Son-Son -- or maybe a bit of Psycho Fox.
Dexter is a genial enough adventure, set in a haunting world that you will want to see more of. It's still early going for Wears, but on the basis of his work here it would have been great to see what else he came up with. Unfortunately, this seems to be the last game that he attempted.
N/A
Instructions
[
edit
]
On the numerical keypad:
4, 6: Walk left, right
7, 8, 9: Jump left, up, right
Space: Shoot
E: Surprise move!
Credits
[
edit
]
Designed by Matt Wears.
Availability
[
edit
]
This game is not known to have been distributed in any form, prior to its addition to the Archive.
Archive History
[
edit
]
On March 26, 2012, Alan Caudel tracked down a copy of Dexter and sent it along for inclusion.
Downloads
[
edit
]